WHY ECOTENT IS THE BEST TENT OUT THERE

EASY TO SET UP
No tools, hassle-free. Ready in 2 minutes

UPF 50+
Made with Amni® and Lycra® yarn, provides UPF 50+ protection
ANCHORING BAGS
Easy to fill up with whatever material you have to hand
ELASTIC CARRY BAG
The easiest way to transport and store your Ecotent


WIND RESISTANT
Wind resistant material, safe and unbreakable
ECO-FRIENDLY
Biodegradable and recyclable fabric

VERSATILE
Easily adaptable for optimal sun protection
LIGHT AND COMPACT
Foldable support poles and high quality, durable fabric
SET UP INSTRUCTIONS
3 steps in 2 minutes = 1 ready to use Ecotent
1. Spread your Ecotent
Remove the Ecotent from the carry bag and spread it where you want to set it up.
2. Fill the anchoring bags
Once that's done, stretch the fabric by pulling the bags apart.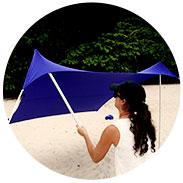 3. Position the support poles
Unfold and clip the support poles and use them to lift up the fabric. Your tent is ready to use!
CHOOSE BELOW THE BEST OPTION FOR YOU
WHAT OUR CLIENTS ARE SAYING
Eu e a minha namorada gostamos muito de fazer trilha para chegar nas praias mais desertas e pouco acessíveis. Levamos a Ecotent na mochila e montamos assim que chegamos na praia. Ficamos o dia todo sem nos queimar, mesmo numa praia que não oferece nenhum tipo de sombra natural. Recomendo!
Guilherme Santos
Sou "praieiro" e o que mais me chamou a atenção foi a proposta e a novidade. Todos que gostam de frequentar praia e tem família grande, sabem que levar todos os apetrechos necessários à praia é cansativo. A ecotent é leve, prática, bonita e arrojada. E você ainda pode mudar o design "ao sabor do vento". Ah. Quando todos saímos, podemos literalmente fechar a tenda (é só baixar as hastes)….RS. Aprovamos.
Clanricardo Paulino
Amei! Como sou mãe solteira, achei a solução ideal para ir a praia com meus filhos. Eles curtem muito encher os sacos de areia e foi super fácil montar a tenda, não precisei da ajuda de ninguém! Se você curte praia, pode comprar sem preocupação.
Fernanda Oliveira
Ecotent has developed a partnership program focused on brands and businesses that wish to use it in their events, themed stores and audio-visual productions, amongst other occasions. Send us your proposal! You can become our next partner!
Ecotent is an excellent product to take your brand closer to your customers and partners in their best moments of leisure. It's modern, eye-catching, practical and adaptable to different environments, whether they are on the beach, by the pool or in the field. Put your brand on an Ecotent or customise it to your liking.
WE WILL LOVE TO HEAR FROM YOU!
Use the form below to contact us or send an email to: ecotent@ecotent.com.br We usually reply within 3 hours during normal business hours (GMT-3).
BUY WITH CONFIDENCE AND PEACE OF MIND
ABOUT US
We are happy to have manufactured and launched the Ecotent in Brazil! A product with innovative design, portable, biodegradable and that provides UVA and UVB protection. We dedicate Ecotent to all seaside and adventure lovers with the confidence that after using it your concept of comfort, shade and protection will never be the same again! Click here to learn more about our story.
Avenida Pompeia, 1494 • Sala 11 • CEP: 5022 001 • São Paulo • SP • 55 11 3796-3324 • Privacy Policy © 2016 Ecotent. All rights reserved.